Fifteen mid-career professionals, including scientists, researchers and experts, working in the fields of oceanography and coastal management participated in the 3 rd IOI-Malta Training Course on Ocean Governance for the Mediterranean and Eastern European Countries – Towards a holistic maritime policy . This annual 5-week intensive international course was held in Malta for the third year running from the 12 th November to the 14 th December and had participants from a number of countries bordering the Mediterranean, Black, Baltic and Caspian Seas, namely, Latvia, Russia, Ukraine, Iran, Turkey, Astrakhan, Georgia, Montenegro, Morocco, Egypt, Jordan and Malta.
These seas are all geographically enclosed or semi-enclosed and potentially subject to national maritime zones in their entirety. Their fragile ecosystems and biodiversity are put under individual and cumulative pressure by their coastal states. As a result, the activities and maritime policies of one state are bound to affect the quality of the marine environment and use enjoyed by neighbouring states.
In this relationship, the EU maritime policy and the coherence of policies of neighbouring states with it are seen as a basis for regional cooperation, a main focus of this year's course. Also, these seas have different levels of experience in regional environmental cooperation and maritime use and the diversity of experience provides an opportunity for comparative learning.
The course also included a 2-day " Seminar on the Evolving EU Maritime Policy and the Proposed Action Plan – A vision for an integrated Maritime Policy for the EU and Neighbouring States ".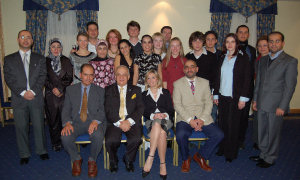 (from front left) Dr. Aldo Drago (Course Manager), Dr. Awni Behnam (Course Director), Ms. Antonella Vassallo (Course Coordinator), Mr. Aref Fakhry and Ms. Lilia Khodjet (lecturers) and course participants. (Click on image to enlarge)