OceanPortal
is an online catalogue of more than 4000 Internet websites covering the marine sciences and its closely related disciplines, especially those dealing with the coastal environment. Its objective is to help scientists and other ocean experts in locating such data and information.
OceanPortal provides metadata descriptions of the sites, including a very basic suite of fields (title, URL, abstract, email contact, etc.) and up to three categorical descriptors assigned from a hierarchical, controlled vocabulary (e.g. DATA & PRODUCTS > ONLINE SERVERS > MAPS/CHARTS/GIS).

The catalogue aims to list resources at a level above the individual document or dataset, attempting instead to cover omnibus sites where searching of primary materials can be conducted using the tools and catalogues found there. Toward this end, great effort was placed on including discipline-oriented portals, on-line catalogues, and libraries. In this respect, OceanPortal can be considered the "portal to marine-related portals."
In addition, even where individual site resources are limited, OceanPortal attempts to include as many oceanographic institutions as possible - especially in developing nations - with a view toward providing users with basic access to primary contact information.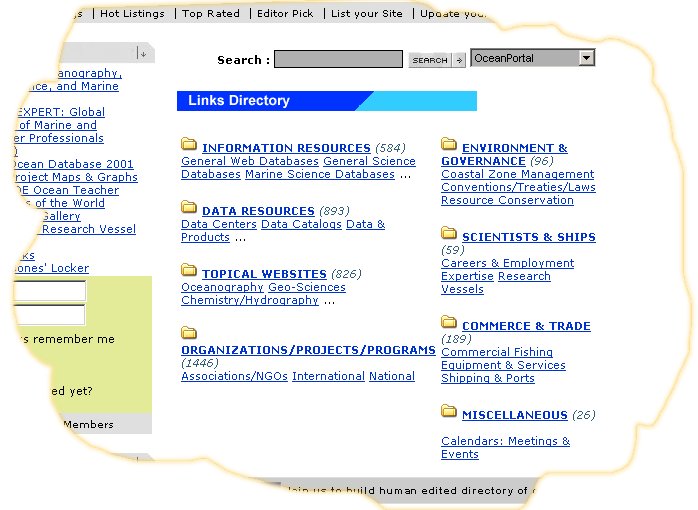 Finally, some very specialised areas of marine science are included, such as marine data formats documentation, designated ocean data centres, "official" data coding schemes, research vessels, online calculators, CD-ROMs, and marine analysis software. All of these items are not known to be catalogued elsewhere.
If you wish to contribute sites from your own favourite list of ocean websites then please contact Mr. Peter Pissierssens.